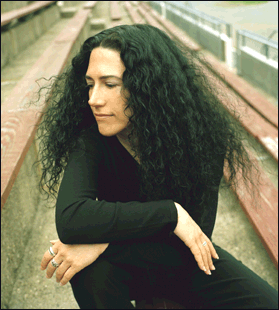 Teresa Leo is the author of a book of poems, The Halo Rule (Elixir Press, 2008), winner of the Elixir Press Editors' Prize and a broadside, "After Twelve Months, Someone Tells Me It's Time to Join the Living" (The Center for Book Arts, 2009). Her poetry and essays have appeared in The American Poetry Review, Poetry, Ploughshares, Women's Review of Books, New Orleans Review, Crab Orchard Review, 5 AM, Barrow Street, The Florida Review, Painted Bride Quarterly, Literal Latté, Italian Americana, Marginalia, Poetry Daily, Verse Daily, La Petite Zine, The Philadelphia Inquirer, The Portable Boog Reader Philadelphia, Mooring Against the Tide: Writing Fiction and Poetry (Prentice Hall, 2005), the anthology Whatever It Takes: Women on Women's Sport (Farrar, Straus and Giroux, 1999), and elsewhere. She has interviewed Rick Moody, Martín Espada, and Israeli poet Yehuda Amichai. She also co-wrote and co-directed (with David Deifer) "Virtually, Paris," a short educational film on literary magazine publishing in the electronic age, which was presented at the Association of Writers & Writing Programs annual conference in 1999, 2001, and 2002.
She has a B.A. in English from Bucknell University and an M.A. in Creative Writing from Temple University where she was also an instructor of Composition. She has also studied at the University of London and Haifa University. She is a former columnist for The Philadelphia Inquirer's Commentary Page, past Editor-in-Chief of Painted Bride Quarterly, and has served as Acting Director of the Kelly Writers House at the University of Pennsylvania. She also worked with the Philadelphia Writing Partnerships Program, where she edited and designed anthologies of poetry written by students participating in the program from nine Philadelphia public middle schools in North Philadelphia, West Philadelphia, and Kensington. Currently she serves as Treasurer on the Board of Directors of Musehouse, a center for the literary arts in Philadelphia, and as a contributing editor of The American Poetry Review. She works at the University of Pennsylvania.
Awards include:
Pushcart Prize nomination, 2013
Richard Peterson Poetry Prize from Crab Orchard Review, 2012
Poetry Award from Literal Latté, 2012
Pushcart Prize nomination, 2010
Pushcart Prize nomination, 2009
Pushcart Prize nomination, 2007
Pennsylvania Council on the Arts Individual Artist Fellowship (poetry), 2006
Pennsylvania Council on the Arts Special Opportunity Stipend Award in Literature (poetry project), 2005
Leeway Foundation Emerging Artist Award (creative nonfiction), 2003
Pew Fellowship in the Arts (poetry), 2002
Pennsylvania Council on the Arts Individual Artist Fellowship (creative nonfiction), 2001
Residencies:
Photo by Jason Eskenazi.